Orthodontics for Kids & Teens
If you are concerned about your child's smile or teeth and wonder if they might need braces or orthodontic treatment, explore reliable answers to common questions here.

Why get orthodontic treatment for your child or teen?
The first thing we notice when we meet someone is their smile. Your child's smile is one of their most important features so let's make it a great one.
If their teeth are showing problems, or they're self-conscious about them, having orthodontic treatment can help restore their confidence to smile. A confident smile will help them for the rest of their life.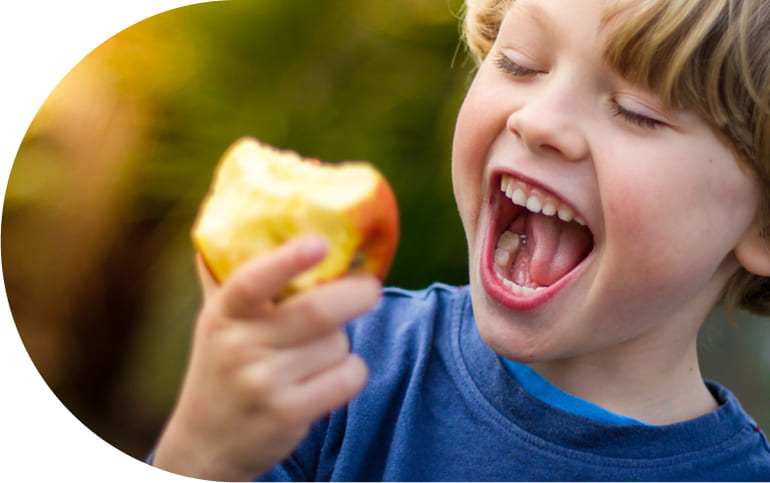 Common Teeth Issues Where Orthodontists Can Help
Children can have a range of orthodontic problems including crowding (not enough space), spacing (too much space), anterior crossbite (an upper front tooth bites behind a lower front tooth), posterior crossbite (an upper back tooth bites to the inside of a lower back tooth), increased overjet (upper front teeth stick out from lower front teeth), reverse overjet (lower front teeth bite forward of upper front teeth), deep bite (upper front teeth overlap lower front teeth a lot), open bite (front teeth don't touch), impacted teeth (stuck teeth), submerged teeth and missing teeth.
If a school Dental Therapist or Dentist has mentioned any of these, or if you have any questions about your child's bite or teeth, we recommend you contact your local Orthodontist directly for a consultation. No referral is needed.
What About Clear Aligners?
Invisalign for kids and teenagers is a significant development in orthodontics, providing a comfortable, effective, and less noticeable way to correct teeth alignment concerns.

These aligners are also removable, allowing for easier cleaning and maintenance, as well as unrestricted diet. Designed with young users in mind, Invisalign treatment plans involve periodic adjustments, accounting for the continuous growth and changes in kids and teenagers' mouths.
Learn More About Clear Aligners →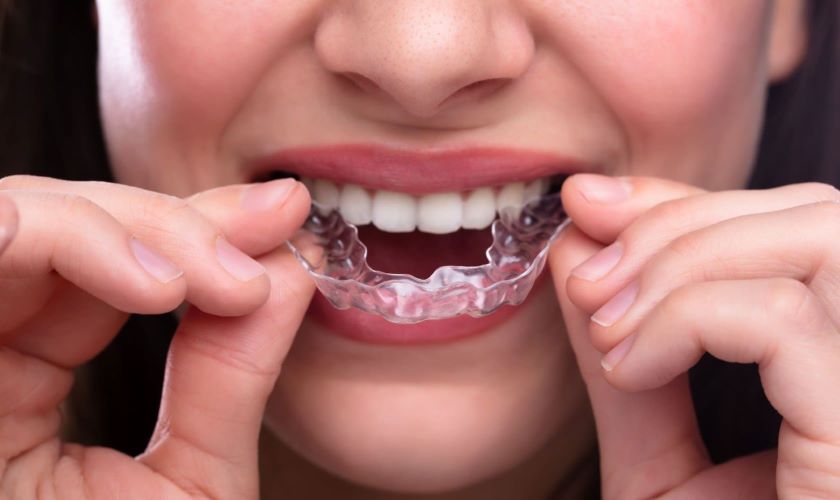 Metal & Ceramic Clear Braces
Metal and ceramic clear braces are an ideal orthodontic solution for kids and teenagers who wish to correct their dental alignment issues while maintaining a natural look. Unlike traditional metal braces, clear ceramic braces are less visible, helping to make children and teenagers feel more comfortable and less self-conscious about their orthodontic treatment.
Metal braces, on the other hand, are extremely efficient in treating more complex orthodontic conditions. Compared to ceramic, they are strong and resistant to wear and tear, making them the most suitable choice for youngsters, who might not be the most careful with their braces' upkeep.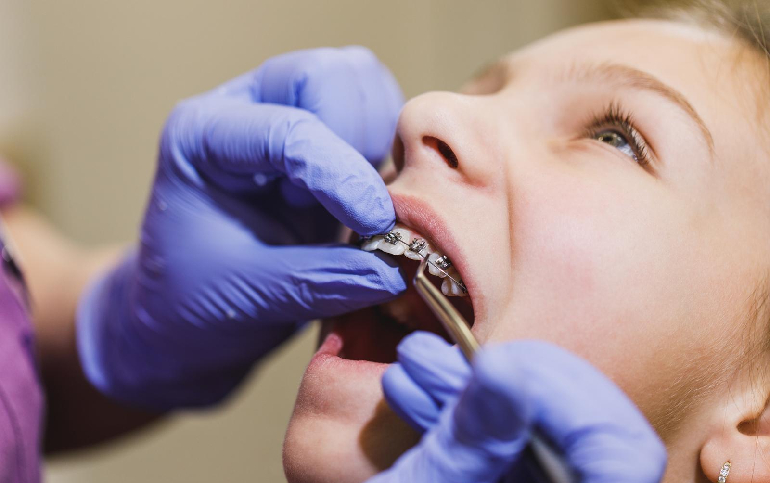 Find a specialist
Orthodontist near you
Search for an
Orthodontist by name
What's the optimum age to start treatment?
The ideal time to start treatment is unique to the patient's specific set of orthodontic problems. Generally speaking, comprehensive treatment with braces can begin when all the permanent teeth have erupted (12 years and over). However, there are some cases which are suitable to start earlier than this, and some cases that are best left until growth is complete (16 years +).
The best time to see an Orthodontist is as soon as you notice something wrong with your child's bite or smile. Your child's Dentist or Dental Therapist may also refer your child if they notice a problem – this allows the Orthodontist to determine the best time for starting treatment.
Will my child need teeth extracted as part of their treatment?
We are all individuals and unsurprisingly, there is no 'one size fits all' treatment plan thanks to our genes and the many external factors that impact on our development.
In some cases the removal of teeth is indeed required to ensure safe and stable treatment outcomes. This is not a decision that is taken lightly, and depends on many clinical and radiographic factors that will be discussed with you prior to proceeding. For most Orthodontists, the proportion of patients who require extractions is generally quite low – around 10-20%.
Some dentists who offer orthodontic services claim they "never" extract teeth. Be careful of generalisations such as these and see a Specialist Orthodontist regarding your specific case.
Will my child need braces or a plate? What is the best treatment option?
The best thing about seeing a Specialist Orthodontist is that they are familiar with all the different methods of orthodontic treatment – there is no "one size fits all". You can be confident your Orthodontist can help you choose the best treatment for you or your child. If there is more than one option, your Orthodontist will be able to explain the advantages and disadvantages of each to help you make the best decision.  You can read about different treatment options here.
How do I make sure that I'm seeing a Specialist Orthodontist?
An Orthodontist is a registered dental specialist with the Dental Council of New Zealand (DCNZ) after and additional 3 years of specialist training in orthodontics.
You can use the DCNZ website to check whether the clinician you are seeing is an Orthodontist or use our handy Orthodontist search tool here.
How much does orthodontic treatment cost?
Orthodontic treatment is an investment in you or your loved ones' future. There is no set fee for orthodontic visits in New Zealand. Fees will vary depending on the type of treatment required, the length of treatment and the Orthodontist you see.
Many Orthodontists will provide all-inclusive treatment quotes so you can work out your budget ahead of time. They also offer payment plans so you can spread the cost of your treatment over time.
How long does treatment take?
Orthodontic treatment can last anywhere from 6 months to over 2 years, depending on your case. For example, rotating a single tooth may be achieved in a few short months, but guiding an impacted tooth down into alignment with the rest of your teeth may take longer. Correcting jaw alignment and fixing your bite may also take longer to correct.
A number of companies claim to be able to treat all orthodontic cases in as little as 6 months. However, they tend to only straighten the front teeth without correcting underlying bite issues.
No matter the length of your treatment, a successfully completed treatment will generally be far better than one that is rushed.
Read more FAQs »